Bristol Pound hits £100,000 bank deposits mark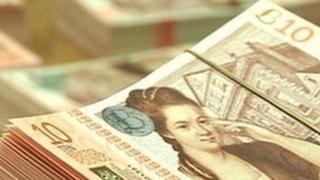 The Bristol pound, a community currency launched in the city in September, has reached the £100,000 mark for bank deposits.
The aim of the scheme is to make sure that money earned in the city is also spent in local businesses.
More than 500 Bristol firms have signed up to the currency, making it the UK's largest alternative to Sterling.
Founder Ciaran Mundy said he was "astounded" by the level of commitment shown by Bristol people.
He said it showed that adopters of the currency wanted to "build a good economy fit for the future" in the city.
The currency comes in in £1, £5, £10 and £20 denominations. A Bristol pound is worth exactly £1 Sterling.
People can open an account with the Bristol Credit Union, which is administering the scheme, and for every pound sterling they deposit, they are credited one Bristol pound.
This money can then either be cashed, or used electronically to pay bills online - or even with a mobile phone.
Since the money is held by the credit union, which has FSA backing, it has the same protection as any other deposit account.
The standard government scheme guarantees up to £85,000 per person.