Bristol Thatcher death street party clashes debated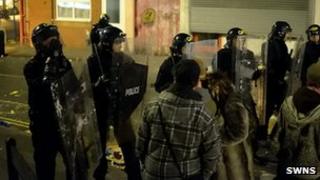 Bristol's mayor and police commissioner have taken part in a debate on the causes of violence at a street party celebrating Baroness Thatcher's death.
Clashes at the party in Easton last Monday, attended by about 200 people, left seven police officers injured.
Mayor George Ferguson and Police and Crime Commissioner Sue Mountstevens were at the meeting.
They discussed why a peaceful party escalated into violence, and whether the police response was heavy-handed.
Ms Mountstevens said the meeting was "good-natured" and "had value".
The hour-long debate at Easton Community Centre was set up by the Bristol Evening Post.
Alongside Mr Ferguson and Ms Mountstevens, about 30 people, including members of the police, community leaders and residents, attended the meeting.
"There were different views, but the important thing was people listened to each other," she said.
"Anti-social behaviour cannot be tolerated when people are scared in their homes."
Mr Ferguson was unavailable for comment.