Baroness Thatcher funeral flag row in South Gloucestershire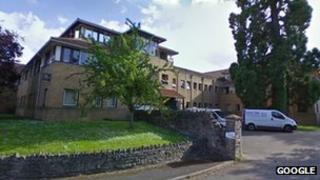 A failure to fly a council's flags at half mast during Baroness Thatcher's funeral has led to a political row.
Conservatives on South Gloucestershire Council said they were angry that a request to lower their flags, in line with national instruction, was blocked.
The Labour group claimed the Tories were seeking to incite a row where none exists, and the Liberal Democrats said the issue was raised too late.
Lady Thatcher's funeral took place in St Paul's Cathedral on Wednesday.
It was the biggest such occasion since the Queen Mother's funeral in 2002, and the College of Arms gave special instructions that flags on buildings belonging to central and local government should be flown at half-mast from dawn to dusk.
'No discussion'
Councillor Matthew Riddle, deputy leader of the Conservative group in South Gloucestershire said it was "extraordinarily petty and disrespectful" that councillors with the other two parties would play politics and prevent the Union flag being flown at half-mast.
"Unfortunately we have a hung council in South Gloucestershire and we can't decide these things on our own. All the other local authorities in our area had their flags at half mast."
Councillor Andy Perkins, Labour group leader, said the first he was aware of the Conservatives' interest in flying the flag at half mast was at 11:00 BST when the funeral was well under way.
"If they were really concerned that the council should fly its flag at half-mast, they would have made their views known on the day of or immediately following her death."
'Majority view'
According to the Tories, the group emailed its request to the council's chief executive at 08:00 BST.
An authority spokesperson added: "The council has a protocol for flying the flag at council premises.
"As the request was to vary the usual protocol the chief executive sought the views of the three group leaders at one of their regular meetings on Wednesday morning and acted in accordance with the majority view."
Councillor Claire Young, deputy leader of the Liberal Democrats, said: "I think if the Conservatives wanted to show respect then it seems rather strange to have waited until during the funeral. At best it looks like an afterthought."
The authority's main offices are in Thornbury but it has other sites across South Gloucestershire including offices in Kingswood, Yate and Patchway.