Barriers 'held down longer' in Somerset rail crash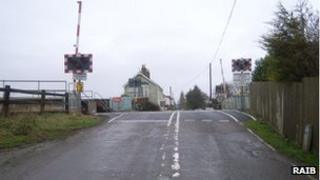 Barriers at a level crossing in Somerset where a man was killed were held down for longer than usual before he tried to cross the tracks, a report has found.
Dennis France, 65, died when his car was hit by a train at Athelney crossing, near Taunton, on 21 March.
The Rail Accident Investigation Branch said signals were working correctly but the closure sequence started earlier.
They now plan to look at what may have influenced Mr France's actions.
The Rail Accident Investigation Branch (RAIB) report said evidence gathered so far showed the car had been held at the crossing with the barriers down, but that it was then driven round the barriers and on to the crossing.
Earlier closure
The crossing is described as an "automatic half-barrier" type and the lowering of the barriers is preceded by flashing signals.
The crossing sequence should be automatically started by the approaching train, but the RAIB report said that "on this occasion the crossing closure sequence commenced earlier".
It explained that this was "because the previous train, an engineers' on-track machine, had passed through the crossing in the opposite direction to normal".
No train passengers were hurt in the collision but the line remained closed until the afternoon.
The RAIB's investigation is separate from the Office of Rail Regulation and the British Transport Police.
It said its report, including any recommendations to improve safety, would be published once it has completed its investigation.