Bristol tandem bike deaths driver pleads guilty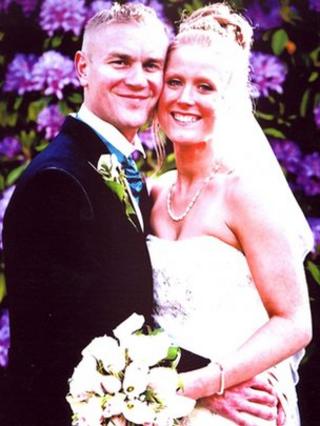 A man who killed a couple when he knocked them off their tandem bike with a car while being pursued by police has pleaded guilty in court.
Ross Simons, 34, and his wife Clare, 30, died at the scene in Hanham, Bristol on 27 January.
At Bristol Crown Court, Nicholas Lovell, 38, of West Street, Oldland Common, admitted two counts of causing death by dangerous driving.
Lovell, who fled from the crash scene, was banned from driving at the time.
During the hearing, he also pleaded guilty to one count of driving while disqualified.
At the time of the crash he was driving a Citroen Picasso owned by Louise Cox, 35, also of Oldland Common, who admitted perverting the course of justice, at the hearing.
Cox gave the police a false name and description when asked who the driver of the vehicle was.
Before the collision, which was initially referred to the Independent Police Complaints Commission (IPCC), Avon and Somerset Police said an officer indicated for the car to stop but then lost sight of it.
Shortly afterwards, Lovell struck another vehicle on Lower Hanham Road before colliding with Mr and Mrs Simons' tandem.
The IPCC has since said the matter has been "referred back to the force" for investigation.
Victims' IVF hopes
The case has been adjourned until 22 May to prepare pre-sentencing reports.
Cox is currently the subject of a supervision order and has been released on bail while Lovell remains in custody.
Judge Neil Ford told Cox: "The fact that I'm adjourning for pre-sentencing reports is no indication of the type of sentence you will receive.
"That will be a matter entirely for the sentencing judge."
Friends of the couple said they desperately wanted children and at the time of their deaths had just been given the go-ahead to start IVF treatment.
They said Mr and Mrs Simons had been married for about 18 months and had been together for several years.
Det Ch Insp Rachel Williams of Avon and Somerset Police said she hoped the guilty verdicts would provide "some comfort" to Mr and Mrs Simons' families.
"This collision was caused by Nicholas Lovell, a disqualified driver who got behind the wheel of the car and drove at speed, before losing control and striking the couple while they cycled," she said.
"Nicholas Lovell then ran away from the scene in a bid to escape, leaving behind Louise Cox who then deliberately and callously set out to mislead police at the scene.
"The pleas entered today by both Nicholas Lovell and Louise Cox reflect that both have taken some responsibility for the deaths of Ross and Clare.
"While these pleas will never bring Ross and Clare back, I hope they go some way to providing comfort for their families."