Portway damage risk prompts Avon Gorge rockfall repairs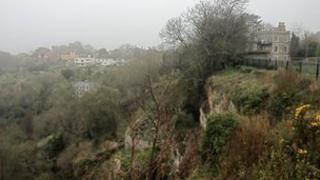 Work is planned to prevent further rockfalls in Bristol's Avon Gorge amid concerns there is some risk of damage to the road below.
Hundreds of tonnes of rock fell from the cliff on to private gardens in Sneyd Park on 24 January.
Council structural engineer Phil Lloyd said: "Our main concern is for the Portway below - we can't just leave a potentially unstable lump of rock."
He estimated repair costs would be hundreds of thousands of pounds.
'Complex issue'
Mr Lloyd said that although the risk was low, the remaining rock was unstable and that "one or two double-decker bus-sized rocks" could fall.
He said: "We don't realistically think we can do nothing when there's the possibility of maybe up to 175 tonnes falling from so high up on the rock face."
He said although there were concerns, rocks would be "unlikely to fall on to the highway" and would be more likely to fall into a wooded area where there used to be a quarry.
He said the council was now trying to establish who would be responsible, as the area has more than one owner.
"At the moment that is all in discussion. It's a complex issue," he said.
Some of the rock face is owned by the Downs Committee, another section by residents in a nearby block of flats and and the land below by another private owner.
John Hall, who lives in the block of flats at Sneyd Park, said: "Fortunately the rocks did not fall into our garden but one of the worries is that the rockfall which has occurred could then facilitate other rocks to fall.
Wall collapse
"This could impact on to our garden and also it's quite close to where the climbers come. Any additional rockfall could come down on the road or possibly the railway line."
Three years ago, a retaining wall on the Bridge Valley Road, near the Portway, had to be repaired after it collapsed.
But Mr Lloyd said the incidents were not signs of a wider problem.
"That's purely a coincidence. Generally we're on top of things, as far as the general stability of the rock faces through the gorge are concerned.
"This is a one-off from an area that wouldn't come under the normal annual inspection because it's considered very low risk to the highway."