Imperial Tobacco building in Bristol to become school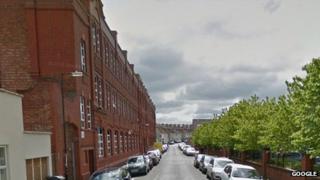 Imperial Tobacco's global headquarters in Bristol are to become a school.
Office staff at the former cigarette factory, in Upton Road, Southville are moving to a new base in nearby Winterstoke Road.
The distinctive red brick building, bought by the city council, will become an extension to Ashton Gate Primary School from September.
Chairman of the governors Lloyd Fletcher said the move was being driven by demand for places at the school.
The school currently has just over 400 pupils. Demand for places means that by September 2015 this will increase to 600, rising to more than 800 by 2020.
'Deal clinched'
Mr Fletcher said: "It's been a real struggle. The council has been working hard to find land and premises all over the city, not just in south Bristol, and obviously they're in short supply.
"We have had a few false starts and this is now finally a deal clinched that would allow us to play some part in helping to resolve the crisis and bring some other benefits to the school through expanding."
A spokeswoman for the South Bristol Schools Campaign Group said: "For our area this is fantastic news.
"We need to keep an eye on the site to make sure it's ready for 2015 and, if it creates surplus spaces, it doesn't mean parents from other areas start getting shipped here.
"We believe it's a fundamental right for all children to go [to a school] within walking distance of their homes."
The building became the Imperial Tobacco headquarters more than 20 years ago, following the closure of the company's factory in Hartcliffe.
Before that thousands of staff were employed there to make cigarettes.
The plan is to put temporary reception classrooms in the factory car park in time for the start of the next school year.
Once the 300 administrative staff move out, work will start to revamp the building for school use.
The building is expected to reopen as a school in September 2015, with the primary operating over a split site.