Honeymoon murder: Shrien Dewani 'mental health relapse'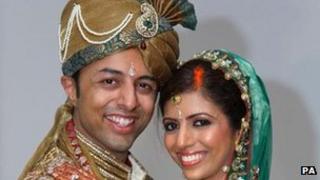 A man wanted in South Africa over the honeymoon murder of his wife has suffered a mental health relapse, a court has heard.
Shrien Dewani, 33, is being treated at a hospital in Bristol for depression and post-traumatic stress disorder.
Westminster Magistrates' Court heard he was taken off medication after experiencing a bad reaction.
"We may have taken one step back having taken two steps forward," said his lawyer, Clare Montgomery QC.
Mr Dewani's wife Anni, 28, was shot when a taxi the couple were travelling in was hijacked in a township on the outskirts of Cape Town in November 2010.
The Bristol businessman faces charges of murder, conspiracy to commit murder, robbery with aggravating circumstances and obstructing the administration of justice - all of which he denies.
Mr Dewani has been sectioned for a further 12 months under the Mental Health Act.
The court also heard the defence made proposals in April for Mr Dewani to make a voluntary return to South Africa, but the details of the offer were not discussed in court.
Under the South African government's current plans, if Mr Dewani is extradited his mental health will be assessed upon arrival.
If he is considered at risk, he will be taken to the psychiatric unit at Valkenburg Hospital in Cape Town, before being sent to the city's Goodwood prison.
A request from the defence to put back the full extradition hearing for an expert to visit Valkenburg in August was rejected by the chief magistrate Howard Riddle.
"I am very, very reluctant to delay this case any further," he said.
The full extradition hearing is expected to start on 1 July.
In November Xolile Mngeni, 25, was found guilty of Mrs Dewani's murder by a judge in Cape Town. He was later given a life sentence.
Mngeni's co-accused have said they helped kill her on the orders of her husband.
Taxi driver Zola Tongo says he was approached by Mr Dewani to organise the killing and make it look like a carjacking. He was sentenced to 18 years in prison following a plea bargain.
In August, Mziwamadoda Qwabe was sentenced to 25 years in prison after admitting shooting Mrs Dewani.