Bristol City Council admits bill-paying delay to suppliers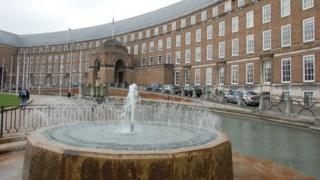 Hundreds of suppliers to Bristol City Council have gone unpaid following "teething problems" on a new system for processing invoices.
The council said it blamed the invoice processing delays on a "corporate scanning project compounded by the transfer to a new finance system".
Extra staff were seconded to the team and the authority expects to clear all outstanding payments within two weeks.
Some 3,500 invoices have been affected by the processing delay.
The authority receives about 1,000 invoices per day and said the processing backlog had only affected some suppliers.
Those associated with social care and other areas where automated invoicing is in place - which account for about two thirds of invoices - have not been affected.
A council spokesman said the new procedures, introduced from 1 April, were designed to allow the council to manage supplier invoices and make payments on schedule, improve efficiency and save costs.
He said the implementation had been "very successful".
"This level of disruption to our suppliers does not meet the standards we set ourselves.
"We are confident that our new system will certainly prove more efficient once we have worked through these initial teething problems," he added.