Bristol tandem bike deaths driver Nicholas Lovell jailed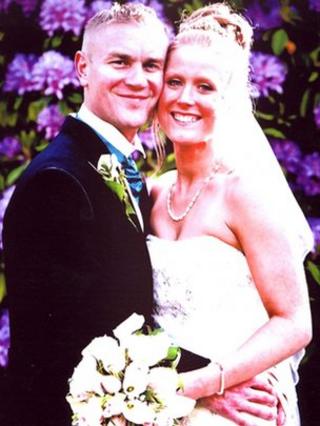 A man who killed a couple when he knocked them off their tandem bike with a car while being pursued by police has been jailed for over 10 years.
Ross Simons, 34, and his wife Clare, 30, died at the scene in Hanham, Bristol, on 27 January.
Last month Nicholas Lovell, 38, of West Street, Oldland Common, admitted two counts of causing death by dangerous driving, at Bristol Crown Court.
Lovell, who was banned from driving at the time, fled the crash scene.
During a previous hearing, he also pleaded guilty to one count of driving while disqualified.
The court was told that at the time of the crash he was driving a Citroen Picasso owned by his partner Louise Cox, 35, also of Oldland Common, who admitted perverting the course of justice by providing police with false details about who had been driving her vehicle.
'Breathtaking selfishness'
Lovell was sentenced to 10 years and six months and banned from driving for life, while Cox was jailed for a year.
Sentencing him, Mr Justice Haddon-Cave said: "This is the worst example one could imagine of this sort of offence.
"You have a serious drug problem but your deep selfishness and disregard for others is breathtaking."
He added that no words could describe the loss and devastation felt by the family and friends of the couple and that he would pass a sentence which was the maximum the law would allow.
Speaking outside court, the family of Ross and Clare Simons said they would be campaigning for a change in the law to get tougher sentences for drivers who kill.
Kelly Woodruff, sister of Ross Simons, said: "We thank the judge for imposing the maximum sentence he could, however we feel cheated by the justice system that does not allow a longer sentence to be imposed for the tragic loss of their lives considering his past convictions.
"While they will serve a few years in prison, we and those close to Ross and Clare, have been given life sentences.
"Both families now ask for the support of the general public and the Press to back us as we intend to start campaigning against the shockingly low sentences given out for this type of offence," she said.
"We will need everyone's support to take this to the highest levels and get the laws changed."
'Heartless man'
Det Ch Insp Rachel Williams said: "Nicholas Lovell is a heartless man who has shown no remorse for the deaths of Ross and Clare.
"He needlessly took away the lives of this innocent couple who were looking forward to a long and happy future together. It took just a few reckless moments to snatch that away.
"The sentence passed highlights the seriousness of both Lovell and Cox's actions."
Before the collision, which was initially referred to the Independent Police Complaints Commission (IPCC), Avon and Somerset Police said an officer indicated for the car to stop but then lost sight of it.
Shortly afterwards, Lovell struck another vehicle on Lower Hanham Road before colliding with Mr and Mrs Simons' tandem.
The IPCC has since said the matter has been "referred back to the force" for investigation.
Friends of the killed couple said they had wanted children and at the time of their deaths had just been given the go ahead to start IVF treatment.
They said the couple had been married for about 18 months and had been together for several years.