Bristol £80m arena plan fast tracked with £250k fund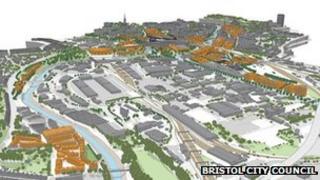 A bid to step up plans for a 12,000-seat music venue costing £80m - first mooted 10 years ago - have been given the green light.
Bristol City Council heard on Wednesday that a £250,000 fund from council reserves should be spent on developing the project and its business case.
Mayor George Ferguson approved the spend at a cabinet meeting.
Building work on the arena situated next to Temple Meads railway station could begin in 2015 and open in 2016.
The idea was first introduced in 2003, but several plans have been scrapped due to concerns such as cost.
'Enormous project'
A feasibility study has previously been completed and a council report says this should help move the project on.
The £250,000 fund will enable a project team can be set up and begin looking for an operator to sign a possible 25-year deal to run the arena.
Simon Cook, a Liberal Democrat councillor in charge of culture on Bristol City Council, said: "We're getting a team together to progress what is an enormous project.
"There are lots of things which have to be looked into - traffic flow, what kind of building, how it will fit and working with other agencies to structure the whole thing.
"We haven't got the capacity within the council so therefore this will pay for consultancy."
The venue is expected to be built on the old diesel depot within the Temple Meads Enterprise Zone - a 70 hectare business development in the city centre.
'Contradiction'
Not everyone has welcomed the plans - the city's civic society raised early concerns about parking.
James Smith from the society said the idea of creating a substantial car park that will pay for itself by being used during the day was "ridiculous".
"The mayor quite rightly in our view, is trying to reduce commuter car parking so, to say the least, it's a contradiction to say you're going to build a car park that can only be used by commuters, or is going to be used by commuters to pay for it.
"We are raising the point now because we don't want the consultants to be instructed that they can make this thing work with a large car park next to it."
In response, Mr Cook said the arguments about car parking were understandable but formed part of a whole range of issues that consultants would be looking into.
"Nothing is set in stone yet and this is partly what this money is for," he said.