Bath Guildhall Market traders fear over redevelopment plan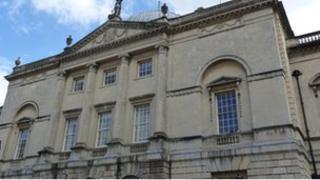 Traders in Bath are concerned about the local authority's plans to refurbish the indoor Guildhall market.
The scheme forms part of Bath and North East Somerset Council's £5m development proposal for the city centre.
It wants to enhance the building as an "inspiring location" and attract the "widest possible source of custom".
Some market traders say they have not been consulted over the plans, and fear higher rents when the redevelopment is run by a new operator.
Kanta Dicorato, who owns a hardware and electrical shop in the market, said traders were concerned they would be moved out of the building while the refurbishment takes place and that leases may not be renewed.
She is also worried that if a new management company is brought in to run the market, rents will increase.
'Thriving place'
She said: "The council's property services team has worked really hard with us, and we've really built the market up.
"It's currently a busy, thriving, brilliant place for local people as well as tourists, and we're worried that if a management company comes in from elsewhere they won't know what local needs are.
"We feel if it isn't broke, why try and fix it?"
A Bath and North East Somerset Council spokesman said any new operator "would collect rents and be expected to enhance and develop the market in line with our expectations".
"Our policy of keeping the Guildhall Market traders informed of progress on the project through face-to-face meetings will continue," he added.