Shirehampton Park and Ride travellers face eviction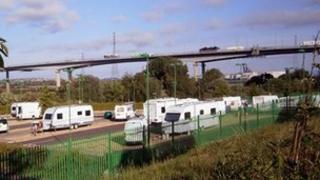 A group of travellers who moved illegally on to a park and ride site in Bristol face legal action to evict them, a city council spokesman said.
The first four caravans moved on to the site at Shirehampton on Saturday evening with more arriving on Monday.
"Legal action is in hand to secure the speedy eviction," the council said.
"Measures are also being put in place to prevent further unauthorised arrivals pending the installation of a permanent barrier."
Bristol City Council added officers were also keeping local ward members informed of developments.
The council said the park and ride service is continuing to operate as normal without disruption.