Bristol's residents' parking scheme amended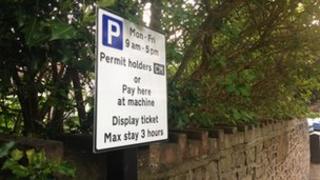 "Significant changes" to plans to roll out residents' parking zones in Bristol have been announced by the mayor.
Proposals include a new city-wide permit for traders, a discount for smaller businesses and doubling free pay-and-display time to 30 minutes.
Mayor George Ferguson is also to introduce a new stage of consultation after criticism from residents.
Dr Jon Rogers, former Liberal Democrat executive member for transport, said there were still "big concerns".
A formal complaint had been sent to Bristol City Council over the way a consultation was being conducted.
But Mr Ferguson, an Independent, who wants to roll out 18 residents' parking zones by the end of 2014, said these "initial adjustments" should "take a lot of the issues away at a stroke".
'All very rushed'
"This has to be done to reduce congestion, improve public transport and foster a better quality of life in the city," he said
"If what's on the table doesn't work well, we can make adjustments at almost any stage of this process, even in regular reviews when schemes are up and running."
Mr Rogers said the mayor was "clearly wanting to improve his schemes" but there were "still big concerns".
"There's very little detail, it is still very ambiguous about the boundaries and the timing," he said.
"It's all very rushed, trying to get it all done in 18 months when really you need to be taking a step at a time.
"And finally, he's not exploring any alternative ideas, any community-led ways of tackling parking."