Bristol awaits European Green Capital verdict in Nantes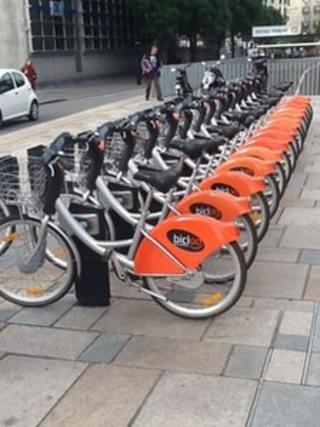 Arriving in Nantes you are quickly made aware of its European Green Capital status - green flags flutter from lampposts declaring the accolade.
Below, trams almost silently travel the French city's streets - their tracks running alongside dedicated bus-ways which, in turn, lie next to cycle paths.
Dotted around the city are dozens of bike-hire racks but most are empty of their distinctive bright orange bicycles as they are proving so popular.
Nantes has the feel of a European Green Capital but Mayor Gilles Retiere said this had taken 30 years of hard work to achieve.
Those hoping Bristol could emulate such success need not despair, though.
Despite Bristol's well-documented traffic woes and its polluted air, the city has been ranked in the top two in all 12 categories on which this award is based.
The judges were impressed by the level of brownfield development as well as its ambitious targets to cut carbon dioxide emissions by 40% by 2020 and to increase the number of cyclists by 76% by 2016.
This is an award where the marks are based not just on how you are faring now but your future strategy and sharing of eco-lessons with other cities.
'Big ambitions'
Along the ramparts of Nantes' Chateau de Ducs de Bretagne, I met the man that the shortlisted cities of Brussels, Glasgow, Ljubljana and Bristol have all been desperate to impress.
Karl Falkenberg, the director general for the environment at the European Commission, also chaired the judging panel and talks passionately about this award eventually having the importance of the Nobel prize in environmental circles.
He said: "The judges are looking at how the cities would use the prize to be a lighthouse for other cities.
"What would they do to show others what has worked, what not to do and how they would improve city management from an environmental perspective?"
All this plays well with Mayor of Bristol George Ferguson's stated aim of using the title in 2015 to stage a year's worth of events along the theme of Bristol being a "laboratory for change".
He said: "If we do win it I think that would give great status to what we are trying to achieve.
"I've got really big ambitions about energy in the city - about becoming a solar city, about being a much less dependent city so that we can be more responsible for keeping the lights on ourselves.
'Beaten by politics'
"So I don't want it just to be a programme of events, I want it to be a programme of achievements on the energy and transport fronts."
Mr Ferguson has even pledged to switch his famed red trousers for a green pair if Bristol is successful on its third attempt.
But this change of clothing will only happen if Bristol fends off competition from the other shortlisted cities.
No eastern European city has won the title before and Mr Ferguson warns Bristol could "be beaten by the European politics".
Mr Falkenberg rejected such a notion. "It is completely free of politics - you don't get this prize if you don't have a good reference," he said.
But it is worth remembering that this is a prize without a cash bonus.
It is just a title but the prestige alone could help generate up to 1,000 jobs and £1m of investment through media coverage, according to Bristol City Council which has looked at past winners.
'Window-dressing'
Mr Falkenberg cites the example of Vitoria-Gasteiz - a small Spanish city - which found itself rubbing shoulders with "the New Yorks, the Beijings and the Hong Kongs of this world" when it claimed the title in 2012.
But the challenge of winning is also to make sure your residents are engaged.
On the banks of the River Loire I met several young people angry at Nantes' success as they claim the city has many different recycling systems which confuse residents.
"I think it's a big joke that Nantes is the Green Capital because of the issue with the garbage. It is just political" said Jennifer.
Her friend Nicholas agreed: "The city is talking about it but the people aren't. It's just window-dressing, people don't feel involved."
A winning Bristol - always proud of the level of public engagement on green issues - would hope to avoid courting such controversies.
Good news from Nantes would also be the ideal start to the launch of Bristol's Big Green Week and Festival of Nature.
So what are the chances of winning? Mr Falkenberg remains tight-lipped.
"We really were struck by the enthusiasm of the Bristol team and again they did a convincing, motivated presentation this year - the problem is so did the three others and that's the difficulty for the jury."
Bristol will find out at 18:45 BST if it will be crowned the European Green Capital for 2015.