Locking Parklands: Plan for 1,200 homes on old RAF site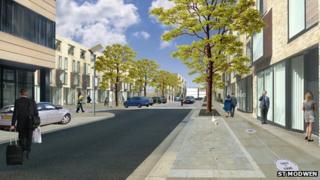 Plans to build a further 1,200 homes on a former RAF site have been submitted for council consideration.
The plans for the old RAF Locking site near Weston-super-Mare also include 650,000 sq ft (60 sq m) of commercial space including an innovation centre with flexible workspace.
Developer St Modwen said it estimated 2,000 jobs could be created.
A hundred homes have already been built there, 95 of which have been sold, and construction is under way on 150 more.
An office building has also been constructed.
The latest outline planning application has been submitted to North Somerset council by the developers and the Homes and Communities Agency (HCA).
It includes a primary school, secondary school, 80 acres of landscaped open space and a new district centre.
Rupert Joseland, South West Regional Director for St. Modwen, said: "The latest proposals for Locking Parklands will enable us to deliver a truly mixed use new community for Weston.
"The site was recently voted as one of the top three housing schemes in the UK."
The project, which began in 2008, is expected to take 20 years to complete.