M4 and M5 speed limit ignored by drivers near Bristol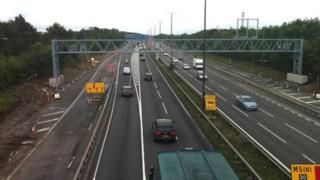 More than 24,000 people have broken a 50mph speed limit - six at more than 115mph - at roadworks near Bristol, in the past 17 months.
Drivers were clocked on the M4 and M5, in a managed-motorway scheme similar to the M42 near Birmingham.
Last October, an FOI request by the BBC revealed one driver had driven through the roadworks at 137mph.
Since then, five others have been clocked at more than 117mph - one at 128mph - a similar request has showed.
Avon and Somerset Police said a total of £311,000 had been paid in speeding fines.
The force said it may change the way traffic police patrol the area as a result.
Ch Insp Yan Georgiou said: "We will take a good look at these figures, we have got some good data here.
"We may make some adjustments to our patrolling plan, to deployment and to our education plan.
"We will work together with the Highways Agency and other partners to ensure this stretch of the road network is as safe as it can be under the circumstances."
The roadworks are expected to be complete by October with the final scheme up and running in December.