Pucklechurch boys make £1,600 from £10 loans on contest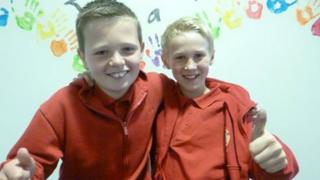 Two schoolboys have won a national competition after making a profit of more than £1,600 from two £10 loans.
Archie Kenway, 10, and Lewis Frankcom, 11, from South Gloucestershire, combined their loans from the Tenner enterprise competition.
They used the money to buy stamps and envelopes to post letters to companies requesting items to sell at auction.
The boys came up with the idea to raise money for road safety awareness after a fellow pupil was hit by a van.
Archie was one of the first at the scene when nine-year-old Josh Hartry was hit crossing a main road close to their school, Pucklechurch Primary, in April.
He said: "We were all very sad that Josh got injured and we wanted to do something to help.
"My mum has helped to raise money for charity by doing auctions before now, so we decided to run one for the Tenner project."
'Tickets to Wembley'
Ideas so far include a pedestrian crossing to practise on in school, or "something that reminds pedestrians to stop, look and listen before they cross the road", he said.
Lewis said: "We wore our suits and visited local businesses to ask if they could provide us with an item for auction.
"We then went to the local post office and bought as many stamps and envelopes as we could with our £20, writing letters to businesses and football clubs across the country to see what they could send us.
"The response was really brilliant and we ended up with some great items including everything from spray tans and hair cuts to tickets to Manchester City FC and England World Cup qualifiers at Wembley."
The boys, who called their company LA Events Management, held a live auction listing more than 100 items and charging £1 entry on the door.
They beat more than 25,000 other five to 19-year-olds to make the biggest profit in 31 days - a total of £1684.30.
Class teacher Lisa Bannister said it was clear they had a "clear business plan and strategy".
"Everyone at Pucklechurch is thrilled that they managed to achieve this, none more so than Josh and his family," she added.
The Tenner initiative is organised by enterprise education charity Young Enterprise.