Honeymoon murder: Call to adjourn Dewani extradition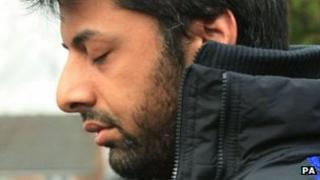 Lawyers defending a honeymoon murder suspect have called for a six-month adjournment to extradition proceedings.
Shrien Dewani, from Bristol, is accused of plotting to kill his wife, Anni, in South Africa in November 2010.
During the closing arguments his defence argued he was at a "delicate stage" in his recovery.
The four-day hearing has concluded at Westminster Magistrates' Court and Chief Magistrate Howard Riddle is due to make a ruling on 24 July.
Anni Dewani's family said they were hoping for "closure" as the extradition hearing ended on Thursday.
Lawyers representing South African authorities told the court any temporary dip in Mr Dewani's condition would be managed by health services in the country and any delay in proceedings was unnecessary.
Health concerns
Mr Dewani has been excused from attending the hearing.
He has been diagnosed with post-traumatic stress disorder and depression and is receiving treatment at a hospital near Bristol.
Defending, Claire Montgomerie QC, said: "If he cannot get fit here after two-and-a-half years, one has to recognise given the severity of his condition that he may never get fit."
She added that his deterioration is "not a risk, it will happen".
Hugo Keith QC, for the South African government, said: "Given that the services in Valkenberg are good if not excellent, given that the spike can be managed, then there is simply no point in waiting."
Mr Keith added waiting for another six months would mean Mr Dewani and the legal progress would be in no different position than at the start of this year.
The 33-year-old businessman from Bristol was ordered to return to the country in 2011, but this was successfully appealed against.
Judges then ordered the chief magistrate to look at the case again.
Honeymoon hijacking
Newly-wed Mrs Dewani was shot when a taxi in which the couple were travelling in was hijacked in the Gugulethu township, Cape Town in November 2010.
Mr Dewani and driver Zola Tongo were ejected from the car before Mrs Dewani was driven away and killed.
Last year South African Xolile Mngeni was convicted of premeditated murder for shooting Mrs Dewani.
Prosecutors claimed that he was a hitman hired by Mr Dewani to kill his new wife, something that Mr Dewani has consistently denied.
Tongo was jailed for 18 years after he admitted his part in the crime, and another accomplice, Mziwamadoda Qwabe, also pleaded guilty to charges over the murder and was handed a 25-year prison sentence.