Freedom of Bristol 'a great honour' for Professor Higgs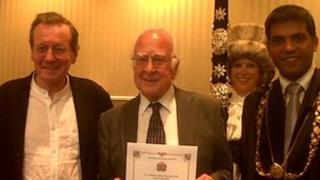 The Bristol-born scientist who gave his name to the Higgs boson or "god particle" has been honoured with the freedom of the city.
Prof Peter Higgs, 92, who went to Cotham Grammar School, came up with the theory on how matter attains its mass.
He predicted the existence of the subatomic particle, which is thought to have been detected by the Large Hadron Collider in July last year.
Prof Higgs said it was "a great honour" to receive the award.
Speaking about his work he said: "I realised in 1964 that it was potentially important but at that stage it was a theorist's theory in search of an application.
"The people, including myself, who did the work didn't actually find the right thing to do with it - that came several years later.
Dark matter
"When that arrived in the late 60s, or by early '72, it really did appear to be important and useful so it was a matter of waiting to see it develop and what the experiments found."
Prof Higgs said the success of the theory was "a collective thing".
"There were six of us who did similar things in '64. The success of the theory over the years has depended on the work of the later people who found the right way to apply it so it's been a long process.
"What was found last year was a Higgs-like particle but since then it's been upgraded to being a Higgs boson. In other words, it's definitely the right kind of particle.
"The big question as far as the experiments are concerned is 'Is it the only one or are there more like that?' so that remains to be seen.
"I'm rather in favour of the theory which requires there to be more because that kind of theory makes predictions about other things they should find at higher energies which will connect up with questions like the nature of dark matter in the universe. That's what I'm hoping will happen."
Freedom of the city is the highest honour Bristol City Council can give.
Prof Higgs follows in the footsteps of the Kenyan distance runner, Kipchoge Keino who was made a Freeman of Bristol last July.
The title confers no special privileges.