School in South Bristol spray-painted with snowflakes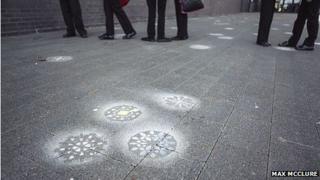 More than 700 different snowflakes have been spray-painted on the playgrounds and pathways of a school in Bristol.
The public artwork was conceived by Anna Barriball to mark the opening of the Oasis Academy John Williams.
A total of 720 individual snowflakes, created and cut-out by hand by both staff and students, were used as templates.
The work was commissioned by Bristol City Council and arts producers, Situations.
Ms Barriball said: "I wanted to keep the name of the person who made the flake together - so students and staff can find their own snowflake."
A map showing the location of each of the painted snowflakes has been produced, along with a complete compendium of the 720 unique designs.
"The painted snowflakes are fairly hardwearing but over time they will fade," said a spokesman for Situations.
Four volumes of all the snowflakes created will be held in trust by the Bristol Museums, Galleries and Archives, added the spokesman.