Bristol Zoo overflow car park plans opposed by community groups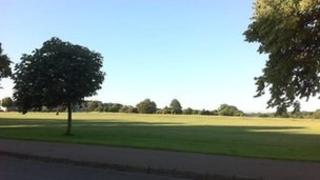 Community groups are objecting to an application from Bristol Zoo to allow 700 cars to park on Clifton Downs.
The zoo has been using the overflow car park on the Downs since the 1970s and has been granted temporary parking consents there over the past 40 years.
But groups including the local Green Party, Clifton and Hotwells Improvement Society and Bristol Ramblers have opposed its application for renewal.
The zoo wants the parking spaces for 60 days a year for the next five years.
The zoo has set up a petition asking for support for the overflow car park and has more than 800 signatures to date.
'Popular with joggers'
But several community and amenity groups have registered their objections to the application renewal.
Bristol Ramblers believe it should be refused because it would have "an adverse effect on people's enjoyment of the Downs".
The group also said in a statement: "The site of the car park is on several routes which are popular with walkers and joggers.
"The site is particularly important because areas for carefree, uninterrupted walking are limited by other activities on the Downs."
Richard Bland from Clifton and Hotwells Improvement Society said: "We have been campaigning against this for the past 10 years and are glad others are joining in.
"The zoo uses it [the overflow car park] with great care and responsibility but that's not really the point - it encourages others to park on the Downs.
"Our concern is that they have no Plan B - if the council turns it down they have not dreamed up an alternative."
'Council sympathy'
Green Party councillor Daniella Radice said: "We all have great affection for the zoo, and that is why successive planning committees have bent over backwards to help them.
"But it has become clear that the zoo has no strategy to solve its parking issues other than to continue to rely on the sympathy of the council.
"This has been going on for over 40 years and it is now obvious that they will make no serious attempt to find a sustainable solution until an application is flatly refused."
Other organisations including Destination Bristol, Clifton College and some people who live near to the zoo support the application for renewal.
John Hirst from Destination Bristol said: "Tourism is vital to the Bristol economy in so many different ways.
"We are looking at new approaches to further develop tourism, locally, nationally and internationally, Bristol Zoo is a key part of these plans.
"Without adequate car parking at Bristol Zoo their plans (and ours) would be severely threatened."
The BBC contacted the zoo but it has not commented.
The application will be discussed by the city council on 24 July.