Giovanni Bellini painting returns to Tyntesfield House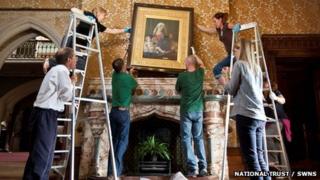 A 15th Century painting has gone back on display at a stately home where it was once hung for more than a century.
Giovanni Bellini's The Madonna and Child with St. John the Baptist was purchased in 1880 by the Gibbs family who lived in Tyntesfield House.
In 2004 it was given to the government in lieu of inheritance tax owed and has more recently been displayed in Bristol City Art Museum and Gallery.
The painting is now displayed in the Ante Room of the house near Bristol.
Stephen Ponder, from the National Trust which owns the home, said a restoration of the house had meant it now met strict standards required for its return and display.
"It is a really rather beautiful painting... It's good to have it back and to be able to put it back on display in the room where the Gibbs family put it on show," he said.
"Bellini was a leading Venetian artist of the Renaissance who had a major influence on the Venetian school of artists, notably his pupils Giorgione and Titian.
"He was renowned for his use of sumptuous, rich colour as can be seen in this work and many of his works are in the National Gallery collection.
"This painting has been well cared for at the Bristol City Art Gallery but it is good to have it back at Tyntesfield," he added.
Tyntesfield House, near Bristol, is described by the National Trust as a "fine Victorian country house created by one of England's richest commoners, William Gibbs, who built his fortune on fertiliser."