Bristol Royal Infirmary apologises after body taken by wrong funeral directors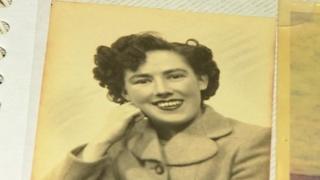 A relative of a woman whose body was collected by the wrong funeral directors has criticised a Bristol hospital for not following procedure.
Peter Williams, from Southampton, was told his mother-in-law's body had been taken from the Bristol Royal Infirmary (BRI) by undertakers he had not hired.
The mistake happened when the BRI did not ask for the body release paperwork.
Hospital trust chief executive, Robert Woolley, apologised for the distress caused to the family.
'Disciplinary action'
He said policies and protocols in place for the release of bodies "were not followed by a member of the mortuary staff".
"Disciplinary action has been taken and additional training on the importance of obtaining and checking paperwork has been conducted with the mortuary team".
But Mr Woolley, from the University Hospitals Bristol NHS Foundation Trust said the "failure of a member of staff to follow procedure should not be considered as failure of the procedures themselves".
Gertrude Pugh, 92, had died in a care home in Bristol on Saturday 23 March and her body was taken to BRI.
The family called Bristol-based Thomas Davies funeral directors regarding potentially collecting the body on 27 March - but no contract was signed or any payment made.
In the meantime they changed their mind and decided to appoint Hertfordshire-based Brooks Funerals on 3 April to make all the arrangements.
But when Brooks went to collect the body two days later they were told it was not there.
'Not individual's fault'
Eventually Brooks retrieved Mrs Pugh's body and her funeral went ahead on 22 April.
Mr Williams said the family had not received the registrar's certificate for burial or cremation form until after Thomas Davies had collected Mrs Pugh's body.
"We knew they could not have had the document - we hadn't even got it ourselves at the time it [the body] was removed," he said.
"I can't really accept it could be just one person's fault. When people are turning up [at the hospital] with no paperwork that's a process fault not just one individual's fault," he added.
The Department of Health said while there was no legal requirements for hospitals to request release forms it expected "processes to be in place for the safe and appropriate release of bodies".
The incident was referred to the National Association of Funeral Directors - an independent trade association - where members agree to abide by a code of practice.
Thomas Davies insist they were acting in good faith and did nothing wrong - which a professional standards board upheld.