Emersons Green street lights switch off 'too early'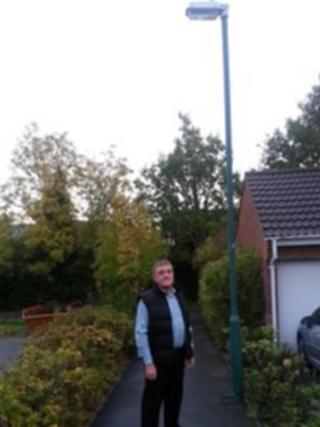 People on a housing estate near Bristol say they feel unsafe at night because the street lights are turned off too early.
Emersons Green residents say the lights have been switching off early since the clocks went back on Sunday.
Resident Ian Wiltshire said his son had been chased by a gang because it was "pitch black".
South Gloucestershire Council admitted there was a problem with its new system and has promised to fix it.
The part-night lighting scheme was installed on the estate in June.
The new switching system involves street lights being switched off for a number of hours each night.
The lights are supposed to remain on until 23:44 GMT, but since Sunday have been switching off between 22:30 and 23:00.
Mark King, from the council, said: "They measure the hours of daylight from sunrise to sunset and by doing so can calculate midday - and from there work out when to turn off and when to turn on.
"The latest batch from the same manufacturers seem to be working not as well as the other ones."