Clifton east homes quizzed over residents' parking zone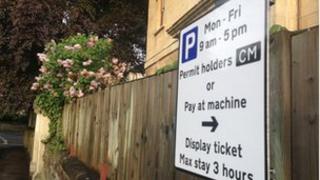 Householders and businesses in the east Clifton area of Bristol are being asked to comment on plans for a residents' parking zone.
It is part of mayor George Ferguson's roll-out of parking zones across the city over the next 18 months - designed to stop commuter parking.
Mr Ferguson planned to cover much of the city but this was scaled back after protests.
The scheme currently operates in Kingsdown, Cotham and central areas.
The east Clifton scheme would cover the area between Upper Belgrave Road at The Downs and Queen's Road just before the Triangle.
Drop-in sessions
Residents will be asked to pay a maximum of £72 to park a first car outside their houses, £96 for a second and £192 for a third car - with no guarantee of a space.
Two drop-in sessions are planned at Redland library, on 14 November between 16:00 and 19:00 GMT and on 19 November between 15:00 and 17:00.
Earlier this year, Mr Ferguson's plans for a blanket roll-out of the scheme were criticised and councillors demanded people be able to opt out.
Business owners argued employees need parking spaces as there is no public transport available at shift start and finish times, schools said offering two or three parking spaces was unrealistic when they employ hundreds of staff and community leaders complained inadequate consultation had led to a blanket, "one size fits all" approach.
A petition of more than 6,000 names against the plans sparked a debate at City Hall.
As a result, schemes for Ashton, Bedminster West, Windmill Hill, Totterdown and Bishopston, Ashley Down, St Andrew's, and St Werburgh's were put on hold.