Bristol mayor 'made most trips abroad'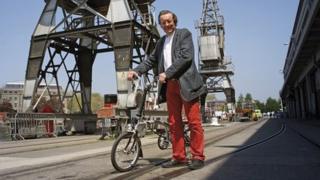 Bristol's first elected mayor has made more official visits abroad than any of England's 15 other elected mayors.
George Ferguson has visited foreign countries seven times since his election one year ago, and said it was "a great sign" for the city.
He has been away from City Hall for 21 days - seven more than second-placed Boris Johnson, who has been abroad five times in the past year as London Mayor.
Union officials said they wanted Mr Ferguson's focus to remain in Bristol.
'Green with envy'
Mr Ferguson, who stood as an independent candidate in last year's election, has visited the United States, France, Switzerland, Belgium and the Republic of Ireland, at a cost to the city council of £1,952.
In comparison, Mr Johnson's five trips abroad cost the Greater London Authority £15,784.
"I'm delighted to be the UK's best-travelled mayor," Mr Ferguson said.
"This is a great sign for Bristol. It means we're getting the kind of recognition and opportunities that would make other cities green with envy."
Mr Ferguson, a qualified architect, added most of the bills had been paid by those who had invited him to visit and he was confident the trips would result in more investment and jobs for the city.
Some business leaders in Bristol agreed, saying the promotion of the city and region abroad is a major requirement.
'Promotion vital'
Paul Wilson, the chief executive of the West of England Local Enterprise Partnership, said: "Many of the answers to the issues we face here are to be found in other parts of the country, or abroad.
"Therefore it's terrific that George is out there raising the profile of Bristol and the wider area, forging relationships with those who have the resources, ideas and experience to help us."
James Durie, from the Bristol Chamber of Commerce and Initiative, said Mr Ferguson was the "principal asset" to share experiences, learn from other places and build relationships with relevant cities abroad.
Bristol City Council wants to cut £90.6m from its budget, a quarter of its total spending, over the next three years.
In addition, the council is currently consulting with unions over plans for up to 800 job losses during the same time period and compulsory redundancies have not been ruled out by the mayor.
Steve Mills, branch secretary for Bristol Unison, said: "We would prefer the mayor to concentrate on defending Bristol's citizens from the worst of this, and improving democracy, and financial accountability, as per his election manifesto."
Unite also said the mayor's priorities should be focused on the people and services in Bristol.
However, Robin Hambleton, a professor of city leadership at the University of the West of England (UWE), said Mr Ferguson should be travelling "even more than he is".
"Successful city leaders are outward facing - they pay serious attention to international trends and work hard to position their city on influential global networks," he said.
Nine of the country's 16 elected mayors have not been abroad in an official capacity in the past year.
One of those nine is Watford mayor Dorothy Thornhill, who said: "If it were relevant to the future prospects and prosperity of the town of Watford I would fly to ends of the earth, but no such opportunities have presented themselves over the last few years that would have provided any tangible benefits for my residents."