Ramp access to Backwell and Nailsea station delayed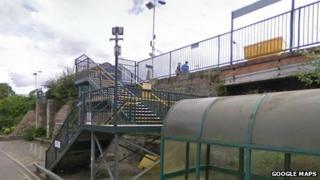 Members of a disability group in North Somerset say they have been left frustrated by delays in building ramps to allow them to use a railway station.
Backwell and Nailsea station only has ramp access on one side and the group says even this one is too steep to use.
First Great Western (FGW) was given £1.23m to build two ramps in 2011, but work has not yet started.
A spokesman said the project had been delayed because of subsidence and work to extend the car park.
Lack of a ramp on the Backwell side means wheelchair-users have to ring up a day in advance of travel to get a taxi to bring them back to the station from Bristol Temple Meads.
'Taken freedom'
And wheelchair-user Andy Hull said he had banged his head on the wall using the existing ramp to the Nailsea platform.
He described it as "scary as hell", adding "my god does it accelerate fast down that slope".
Alison Morgan, from Backwell Access Group, said they had been campaigning for the ramps since 2007.
She said the woman who started the campaign died in September so would not be able to see the work completed.
Ms Morgan, who has been in a wheelchair for 12 years, said the lack of useable ramps had "taken another freedom and independence from my life".
FGW was given money to fix the problem by the Department for Transport (DfT), as part of their Access For All scheme, but it must be used by March 2014.
'Difficult before March'
A spokesman for FGW said the embankments needed shoring up before the ramps could be built, but this could not be done while North Somerset Council was doing work to extend the car park.
Any more contractors on site would mean nobody would be able to access the station, he said.
"In practical terms it's very difficult for us to complete this work before March.
"The DfT... is aware of those restrictions and we have gone to them and said it makes much more sense for us, for our customers, to make sure access to the station is maintained and is safe, to defer these works, and they've assented to that."
He said the work "should happen in the next year".