Stowey Quarry asbestos dump: Inspector rejects planning appeal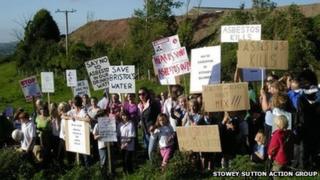 Plans to dump asbestos at a quarry have been turned down by a planning inspector.
Bath and North East Somerset councillors rejected the plans last year to dispose of materials, including asbestos, at Stowey Quarry, Chew Magna, which is near Bristol.
Applicant Oaktree Environmental lodged an appeal which led to the inquiry.
The inspector, Brian Cook, said the proposal would harm the character and the appearance of the area.
Reservoir 'safeguarded'
He also said the risk of contamination to groundwater and its effects on nearby Chew Valley reservoir - which supplies water to Bristol and Shepton Mallet - would be "significant" if the quarry liner failed or if there were "failures in the waste acceptance procedures" at the site.
Mr Cook also said there were fears of asbestos fibres escaping into the air and water and added he was concerned about the effect those fears would have on people living nearby.
The Stowey Quarry Action Group said it was delighted at the inspector's decision, which it said "will safeguard the Chew Valley lake and local community from the threat of harmful wastes including asbestos".
Oaktree Environmental has not yet commented following the outcome of the inquiry.
In September 2012 councillors rejected the plans saying it had not been demonstrated that the quarry was an "appropriate location" to dispose of asbestos.
The application was to use the site to bury 150,000 tonnes of waste a year over a 10-year period.
A petition against the proposal received more than 4,000 signatures.