Call for restrictions on floral tribute and memorials in Bristol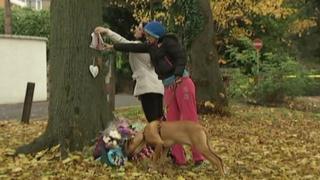 People in part of Bristol have called for restrictions over the amount of time floral tributes and memorials are allowed to stay in situ.
Some residents in the Shirehampton area want a memorial to Beckie Secord on the village green to be removed.
Friends of the 18-year-old, who died in September after drinking, say they come to her favourite place to remember her.
In a statement Bristol City Council said it does not have a time limit on how long unofficial memorials can stay.
'Carol concert'
The unofficial memorial has upset some who want the green cleared in time for the annual carol concert.
Friend Mizz Millet said the tribute was a place she and her friends could go to pay their respects.
"There's nowhere else we can go [to do this]," she said.
Ray Brocklesby, who lives nearby, said 99% of people lose relatives and it is tragic when anybody dies.
"So if someone decides 'I want to remember my daughter this way' - if the whole country did it - we would be full of wreaths around trees," he added.
Miss Secord's mother, Julie, said she can see the argument from both sides.
"Sometimes it can be quite upsetting for other people seeing things [the tribute] like that if they've lost a member of their family.
"I do feel a bit sad but if we could replace it with a bench or a tree that would be nice," she added.
Councillor Wayne Harvey said he had first come across the idea of memorials in the 1980s while on holiday in Greece and the idea had since caught on in the UK.
"This time of year is quite depressing anyhow without looking out on to a memorial display - after all we have cemeteries for that," he added.
In Somerset - the local authority removes tributes after a month.
That caused controversy last year when flowers laid in memory of the murdered woman Catherine Wells-Burr were taken away.