More than 70 Christmas trees stolen from Keynsham nursery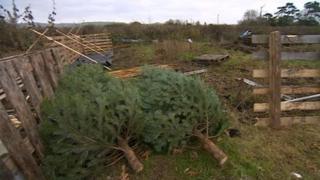 More than 70 Christmas trees have been stolen from a nursery in Keynsham, near Bristol.
The trees were being stored at Broadleaze Nurseries in the town where it is believed they were taken from overnight.
Owner John Pinkerton said the theft has cost his small family business around £3,000.
He said he was "annoyed and angry" and that the theft had made a "big dent" in his trade at a busy time of year.
Anyone with information is asked to contact police or Crimestoppers.