Avon and Somerset Chief Constable offers £1 for 'unwanted' speed cameras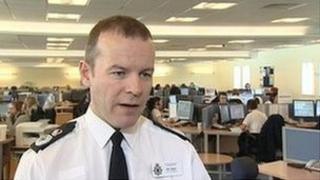 The chief constable of Avon and Somerset Police has said he will buy any speed cameras from local councils unwilling to operate them for £1.
Nick Gargan's offer follows a decision by Bristol's mayor to have up to 26 red light and speed cameras switched off due to a lack of funds turned back on.
Mr Gargan said he "couldn't believe they were switched off".
Elfan ap Rees, deputy leader of North Somerset Council, said the offer was "just a sound bite".
He said many of the cameras were "out-of-date" and that there had been a fall in the number of accidents since they were turned off.
'Sensible to use'
Fixed speed cameras and cameras monitoring junctions were switched off in the area in 2011 after the government stopped funding the Safety Camera Partnership.
On Wednesday, Bristol mayor George Ferguson said work would start early next year to switch on up to 26 speed and traffic light cameras.
Mr Gargan said he would not call for cameras to be fitted, but if they were there, it seemed "sensible" to use them.
"I woke up one morning to a BBC report about the mayor calling for the cameras to be switched back on [in Bristol].
"My first reaction was one of surprise - I couldn't believe they were switched off.
"In the context of the police force that's lost 500 officers already and will lose more over the next couple of years, it seems to be sensible to use whatever infrastructure or opportunities we have".
Bath and North-East Somerset Council said it could not justify the cost of reactivation and was not considering switching cameras back on.
Somerset County Council said talks had taken place but the cost would be "prohibitive", and South Gloucestershire Council said it was still considering the matter.