Bristol arts venue the Cube secured through donations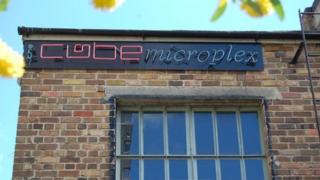 An arts venue in Bristol has raised the remaining money it needed to buy its base through donations made during an evening of "social media wildfire".
The Cube, which is run by 150 non-paid staff, needed to find £185,000 before its leasehold expired on 31 December.
On Wednesday morning the amount left to raise stood at about £10,000 but by 22:24 GMT the target had been reached.
The Cube said it was not down to one or two large donations but "lots of people giving what they could".
It said on Wednesday the venue received 154 donations with amounts ranging from "a few pounds to about £100".
'Snowballed'
Artist and musician David Hopkinson, who volunteers at the Cube, said: "Seeing the last £10,000 come in so quickly was amazing.
"The sense of so many buying into the idea of us securing the building all together was incredible."
The venue has 15,000 members on its mailing list who are kept updated via email and on social media.
A Cube spokesman said it all "snowballed" after the venue put a post on Facebook on Wednesday afternoon that said "only £6,379 to go".
He said hitting the £185,000 target would "safeguard the venue's future for the long term, and provide a springboard for the co-operative that runs it to carry out long-hoped-for improvements".
He said the money would be "ploughed back into the fabric of the building" with a new roof and work to provide proper disabled access being "top of the list".
The volunteer-operated cinema and arts space has been based in the building on the edge of Stokes Croft since 1998.
The landlord offered to sell the building if the money needed to buy it was raised by the end of this year.
The Cube is making a feature length film - The Film That Buys The Cinema - comprised of one-minute clips produced by Cube-affiliated artists.