Bristol Royal Infirmary annexe completed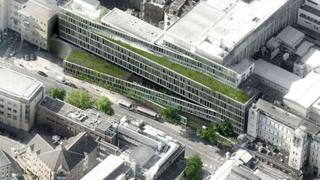 Work on a new annexe housing a welcome centre, shops and a pharmacy at the front of the Bristol Royal Infirmary has been completed.
The annexe will also be home to an outpatient booking service and patient support services.
It forms part of a £92m programme of work, which will see the hospital get a new ward block, helipad and facade.
The BRI Queen's Building on Upper Maudlin Street was once voted one of the ugliest in Bristol.
The look of the new facade was chosen from a shortlist of three designs.
'Veil' by Madrid-based Nieto Sobejano was selected by University Hospitals Bristol NHS Foundation Trust in July.
Work on the new facade is due to be completed by spring 2015.