Freight Transport Association calls for Severn bridges toll cut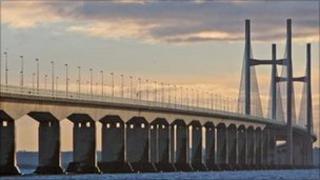 Tolls on the Severn bridges should be cut once they are publicly owned, a transport organisation has said.
The crossings are currently run by a private company and drivers pay tolls as they enter Wales.
Charges are due to increase on 1 January and the Freight Transport Association (FTA) said it was concerned fees would not reduce when the bridges revert to public ownership in 2018.
The Department for Transport (DfT) said no decision had been made over tolls.
The M4 and M48 bridges are operated by private company Severn River Crossings Plc and used by about 80,000 vehicles every day.
The company's concession will end and the bridges returned to the government when takings from the tolls reach £996m at 1989 prices, which is estimated to happen in 2018.
The DfT has said outstanding debts, which fall outside the deal with the current operator, could take a further two years to recover.
'Ensure costs recovered'
Goods vehicles are currently charged between £12.40 and £18.60 for each crossing from England to Wales.
Ian Gallagher, from the FTA, said more and more members were "paying in excess of £200,000 a year in tolls", which would have been "better spent on keeping people in work".
"What members want is a reduction which sees the tolls reduced to a level which covers the maintenance cost of the bridges only," he said.
A DfT spokesman said any future arrangements must not only "provide for future maintenance [but] ensure costs are recovered".
"We are committed to the continued successful operation of the Severn Crossing," he said.
"However, no decisions about the tolling of the crossings after the end of the current agreement have been taken."