Romanian consul to Bristol appointed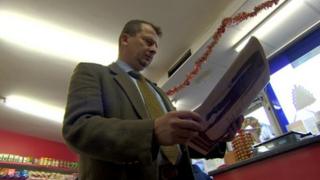 The Romanian government has appointed its own diplomat for Bristol as the UK prepares to lift border controls on Romanian migrants on 1 January.
There are currently about 1,000 Romanians living in the city.
Razvan Constantinescu, who will be the Romanian Consul to Bristol, said he did not think there would be a huge influx when restrictions are lifted.
"I doubt there will be the sort of invasion that some of the press is referring to," he said.
Ninety senior Conservative activists have urged Prime Minister David Cameron not to lift border controls on Romanian and Bulgarian migrants in the new year.
'Working opportunities'
They question how local authorities will be able to support unrestricted immigration without more financial support.
But Mr Constantinescu said: "I doubt there will be huge numbers, simply because most of the Romanians who wanted to come over to Britain to set up in business, to explore working opportunities, have already done so."
He said he wanted to strengthen economic links with Romania and set up a direct flight there from Bristol airport.
Romanians and Bulgarians gained the right to visa-free travel to the UK in 2007, when their countries joined the EU.
Since then, temporary restrictions have been in place meaning they have only been able to work in the UK if they are self-employed, have a job offer, or are filling specialist posts for which no British worker can be found.
These restrictions will be dropped on 1 January, having been extended to the maximum period of seven years.