First Bristol 20 mph limit to come into force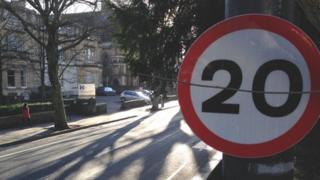 Speed limits of 20 mph are coming into force on a number of roads in the centre of Bristol on 20 January.
Clifton, Cotham, Bishopston and Redland are the first areas of a city-wide roll out of the new slower limit.
The aim is to make streets safer and improve quality of life for local communities.
The council hopes the six-phase scheme, which was piloted in Bedminster and east Bristol, will be fully implemented by March 2015.
Major roads facing the new limit include Park Street and Baldwin Street in the centre and Whiteladies Road and Pembroke Road in Clifton.
Hotwell Road, Cumberland Road and Temple Way have been excluded.
Bristol mayor George Ferguson claimed the pilots showed "that reduced speed limits can and do improve pedestrian and cycle safety".
He added: "[The limit will] reduce the negative impact of anti-social speeding to our communities and support people to become more active, through increased cycling and walking."
The scheme was originally tested in 2010.
But in August, Avon and Somerset Police said it was not enforcing speed limits at the pilot scheme and had not issued a single speeding ticket.