Low-paid Bristol City Council workers 'could get pay rise'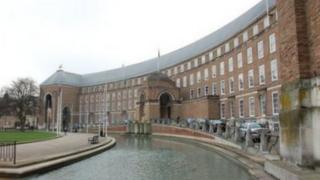 Some of Bristol City Council's lowest paid staff could be receive a higher rate in the next financial year.
A spokesman said the council was prepared to consider a pay award to its lowest paid workers.
It follows a call from the Labour group, asking mayor George Ferguson to pay the minimum living wage of £7.65 an hour to about 600 lower-paid staff.
The group called for an "unexpected budget windfall" of £4m to be used to pay for the increase.
Labour group leader, Helen Holland, said "Now that the mayor has more flexibility in his budget we really hope that he will look again at the case for the city council showing its commitment to those on the lowest pay, and up their wages, without altering terms and conditions, to reduce reliance on benefits.
"It is a source of shame that the city council, who ought to be leading by example, have been left behind by other more progressive employers."
A council spokesman said: "In addition to any national pay award from April 2013 and subject to overall affordability, the council is prepared to consider some form of non-consolidated pay award to the lowest paid, up to the living wage threshold.
"However, this will only be taken forward if agreement can be reached with the Single Status Trade Unions on reforms to the pay and grading system, and in particular payment arrangements for non-standard working hours [for council employees]."
A one-off "windfall" of about £4m is available for next year's council budget because the authority collected more council tax than had been projected last year.