Lewis Clarke: South Pole trek teenager breaks record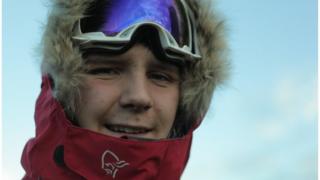 A 16-year-old boy has become the youngest person to trek to the South Pole. Lewis Clarke, from Bristol, has spent almost 50 days battling temperatures as low as -40C (-40F) and winds of up to 120mph (193km/h).
His aim was to enter the record books as the youngest person in the world to ski from the Antarctic coast to the Pole using the 700-mile (1,100km) Hercules Inlet route.
The challenge began on 2 December, two weeks after his 16th birthday and finished earlier on Saturday.
It brings an end to an expedition which has seen Lewis ski for an average of eight hours a day, covering about 18 miles (29km), while pulling his supplies behind him on a sledge.
"Remarkable" and a "great achievement" - just two commendations from famous polar explorers who have gone before him.
His only help has been from experienced polar guide, and expedition companion, Carl Alvey.
The British Antarctic Survey says the continent is the highest and coldest of any, nearly as big as Europe in size and almost entirely buried by snow and ice.
Problems encountered by Lewis along the way have included blisters, coughs caused by being at high altitudes and a broken ski.
But the cold itself has not fazed him. He admits to being the type of person who wears shorts in the winter and much prefers snow to heat.
"I knew it would be hard but it's harder than I ever thought it would be," he said, still 50 miles (80km) from the end.
"I think sometimes about how few people have done this. Only 300 in 100 years. And I'm doing it. That's pretty cool."
Explorer Sir Ranulph Fiennes was full of praise, calling it a "great achievement".
"If I had a 16 year old I'd be scared stiff of letting them do that, but that's not to take anything away from what he's achieved."
'Change for life'
Mr Fiennes said he had not travelled along the same route, but the conditions would have been dependent on the weather, avoiding crevasses, and how good Lewis was at skiing.
Another polar explorer, David Hempleman-Adams, who was the first Briton to complete the same coast-to-pole route as Lewis, said the teenager's achievement was "remarkable".
Solo and unsupported, it took Mr Hempleman-Adams 60 days to climb slowly from sea level to the South Pole - some 9,000ft (2,750m) higher.
"The fact that you do something you love is very special - very few people get the chance," he said. "It changes you as a person for the rest of your life."
Lewis's record - for the same coast-to-pole route - was previously held by 18-year-old Sarah McNair Landry, from Canada.
The records are collected by ExplorersWeb which contains thousands of statistics for polar expeditions as well as other feats of mountaineering or ocean crossing.
The Clarke family, however, has also applied to Guinness World Records to enter Lewis's expedition into its collection, but evidence will need to be submitted before it will verify their claim.
Aside from making history, Lewis has raised more than £3,000 for the Prince's Trust through the expedition.
His father, Steven, said he was "incredibly proud".
'Tidying his clothes'
"Coming home will be a bit weird for him, I'm sure, after seven weeks of almost complete solitude," he said. "But it'll be a few days off, a party and then on to GCSE revision."
Lewis's mother, Sarah Johnson, said she felt she had been holding her breath for the past few months.
"Each night I have slept with the blanket he had as a toddler and spent the few moments before sleep imagining him in his sleeping bag, with the wind howling and the barren desolate landscape around him," Dr Johnson said.
"I have found myself in his bedroom spring cleaning, tidying his clothes in the wardrobe and I bought an entire set of warm flannelette bedding for when he gets home."
The family might be ready for a touch of normality after the three years it has taken to plan this expedition.
Although what is normality for the Clarkes? Not many 16 year olds would enjoy snow training in faraway places such as Norway's Hardanger Plateau and Greenland.
'Fantastic support'
Or months of dragging a tyre over the Bristol Downs and Weston-super-Mare beach to simulate pulling a supplies sledge over the ice.
However, a return to the classroom beckons for the Queen Elizabeth's Hospital School student.
Headmaster Stephen Holliday said: "There has been fantastic support from all the boys at the school and their reaction, especially amongst his friends in Year 11, has been that they are all behind him fully - though none of us is very envious of the physical endurance involved."
He said Lewis did take some revision to do on his solar-powered smartphone, but by the teenager's own admission he had not done much.
"The expedition was certainly one way to avoid revising for GCSE mocks," added Mr Holliday.
"The exams will be a walk in the park after this one. Excuse the slight metaphor."