Weston-Super-Mare's cycle lane branded 'incredibly dangerous'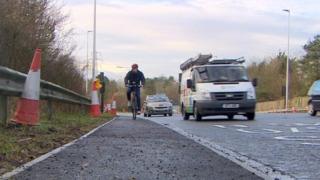 A cycling charity claims a new cycle lane in Weston-Super-Mare is "dangerous" and unfit for purpose.
According to Sustrans, the cycle lane, on the approach to the M5, is too narrow and does not meet minimum guidelines.
North Somerset Council has defended the lane, claiming cyclists "should be grateful" for it.
The new cycle lane - about two metres narrower than guidelines - is part of a £15m package of roadworks in the area.
The lane, which is a metre wide, is on a section of the A370 as it approaches the motorway roundabout from Weston-Super-Mare.
'Incredibly dangerous'
Jason Torrance, director of policy at Sustrans, said: "It's very clearly dangerous. I would ask the people who built this and designed it, 'would they cycle on there with their kids?' The almost certain answer would be no.
"This alleged cycle lane is incredibly dangerous. Putting something like this in is worse than not having it at all."
Elfan Ap Rees, deputy leader of North Somerset Council, said: "We couldn't change it if we wanted to.
"I think the cyclists need to bear in mind that the approach to this area has no cycleway at all, indeed it doesn't even have a pavement, so I think they [cyclists] need to be grateful for the short length that we've actually managed to put in.
"I would [cycle on it]. I wouldn't have a problem with it."
A Department for Transport (DfT) spokesman said: "Local councils are best placed to find local solutions and we only offer guidance to minimum widths for cycle lanes."
According to DfT guidelines, cycle lanes should be a minimum of three metres wide.