20 mph zones are introduced in Bristol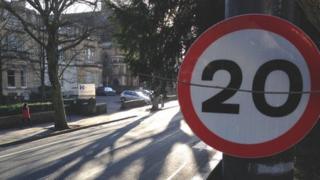 New 20 mph zones have been introduced on roads in six wards across Bristol.
Drivers in Bishopston, Cabot, Cotham, Clifton, Clifton East and Redland will be subject to the speed limit.
Main routes including Gloucester Road and Whiteladies Road will now see traffic moving at the slower speed, 24-hours-a-day.
Bristol City Council said it hoped to make the city's streets safer, but the Alliance of British Drivers has warned it could drive people out of the city.
Bristol Mayor George Ferguson said: "Reduced speed limits can and do improve pedestrian and cycle safety, reduce the negative impact of anti-social speeding to our communities and support people to become more active, through increased cycling and walking."
But Bob Bull, the local co-ordinator of the Alliance of British Drivers, said: "There's lots of things wrong with it. In particular in Bristol, putting it in on main roads is crazy.
"I agree that it will be safer to be hit at 20 mph than 30 mph, but I don't want to be hit at 20 mph by people who are asleep."
The council says five other zones will be introduced at a later date.
Hotwells Road, Anchor Road, Cumberland Basin Road, Cumberland Road and Coronation Road are exempt from the new restrictions.