Bristol version of 'Hollywood' sign appears on outskirts of city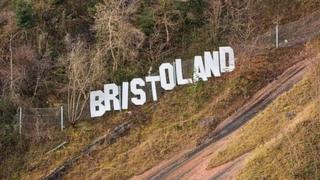 A version of the famous Hollywood sign has appeared on the side of the Avon Gorge overlooking the city of Bristol.
The 8ft (2.4m) high Bristoland sign appeared opposite a main route into the city, the Portway, on Thursday.
It is not known who erected the white letters, but urban art festival organiser, Upfest, said it had been sent a group of images anonymously.
Stephen Hayles from Upfest said: "I think it's a playful individual doing something to make people smile."
The world famous sign in the Hollywood hills was unveiled in 1923 and originally spelt out "Hollywoodland" to advertise a housing development.
Mr Hayles thinks the steep gorge on the outskirts of Bristol is "reminiscent of where the Hollywood sign" is sited, overlooking the city.
"I'd guess it was carried up on the back of someone using a set of climbing ropes to get up there," he said.
"But it remains a bit of a mystery. I'd say it was someone wanting to do something a bit spontaneous and something a little bit different."