Dangerous driving debate on anniversary of Bristol death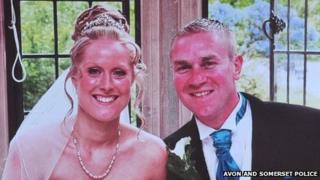 The law on dangerous driving is to be debated in Parliament exactly one year on from the death of a couple killed in a hit and run by a disqualified driver.
Ross and Clare Simons were knocked off their tandem bike in Bristol by Nicholas Lovell, who had four previous convictions for dangerous driving.
Lovell lost his licence in 1999 and was being pursued by police when he hit the couple on 27 January.
Campaigners want tougher penalties for drivers who are already disqualified.
Lovell admitted killing the couple and was jailed for 10 years and six months. The maximum sentence available for death by dangerous driving is 14 years.
He had four previous convictions for dangerous driving and 13 previous convictions for driving while disqualified.
Kingswood's Conservative MP, Chris Skidmore, is backing a campaign for the law to be changed to allow drivers who are disqualified and who commit an offence by dangerous driving to receive longer prison sentences.
'Too lenient'
Mr Skidmore will lead a debate in parliament on the issue later, coincidentally on the first anniversary of the couple's death.
"We've got a situation where the maximum penalty at the moment is 14 years for dangerous driving, " he said.
"I think that, given the situation with Mr Lovell, is just far too lenient.
"He's only got 10 years - nothing will bring Ross and Clare back and I just feel that, given he was disqualified at the time, he needs to serve a longer penalty."
Ross Simons' father, Edwin Simons, said: "The past year has been absolute hell, this man should have been taken off our streets years before.
"This was his 12th time being caught driving while banned. The police had no powers whatsoever. They wouldn't take this man off the road."
A petition set up by Ross and Clare Simons' family, calling for the government to review and change sentencing guidelines for dangerous driving, has attracted over 13,000 signatures.