Avon and Somerset Police to cut more than 134 police officer posts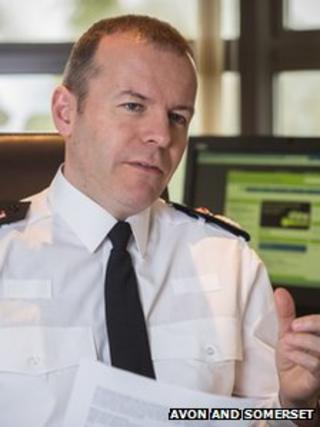 Budget cuts mean 134 police officer jobs are to be axed at Avon and Somerset Police.
The force has to make cuts of £46m which could include closing police stations.
Chief Constable Nick Gargan said despite the "shrinking police force" their aim was to "maintain standards".
To find £8m in savings over the next year, the force is proposing to lose 134 police officer posts, of which 61 will be police constables.
The remainder will come from "every rank up to and including chief superintendent", a force spokesman said.
Mr Gargan said it was "a time of rapid but unavoidable change" but their aim was, as far as possible, to "mitigate the impact of successive budget reduction".
Police and Crime Commissioner Sue Mountstevens said she was "very supportive of the Constabulary's approach" but would be "closely scrutinising the model".
"In reviewing the way they operate they are putting local people first and ensuring policing is responsive to demand," she said.
"The programme will deliver savings which are required over the next two years."