Bristol Southmead Hospital Mental Health Act detention unit opens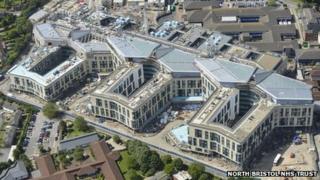 A new unit to hold people detained under the Mental Health Act has opened in Bristol.
Southmead Hospital's four-bed suite, which will cost £800,000 annually, will replace a one-bed unit in Brislington.
Avon and Wiltshire Mental Health Partnership (AWP) said the unit would provide a "place of safety".
AWP chief Iain Tulley said for many, the unit would "mean the difference between anxiety escalating in a police cell and feeling safe and cared for".
Between April 2012 to March 2013, nearly 500 people were detained under section 136 of the act in police custody suites across Bristol, North Somerset, Bath and North East Somerset, and South Gloucestershire.
Some 382 of those were assessed in the one-bed facility at Callington Road Hospital.
Section 136 allows people to be detained, for their own safety and the safety of others, for up to 72 hours for specialist assessment.