Filton Road residents 'trapped' in homes by trenches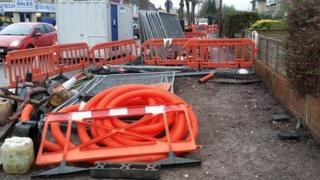 A number of residents in north Bristol became "virtual prisoners" after trenches were dug outside their homes.
The work to improve pedestrian facilities and traffic flow at the junction of Filton Road and Monks Park Avenue was supposed to take three weeks
But underground cables and water pipes proved "more problematic" than initial surveys suggested.
The council has apologised and said work is now expected to finish by the end of the month.
Councillor Claire Hiscott said residents were told the work, which started in December, would last three weeks.
"Now in its sixth week, conditions for homeowners have become increasingly intolerable," she said.
'Rely on goodwill'
"A disabled retired policeman has been made a virtual prisoner in his own home.
"This has meant he has had to rely on the goodwill of neighbours, and even workmen, to get basic supplies like milk, as the front of his house is now cut off by trenches and barricades.
"This gentleman is not alone - residents in 16 homes along Filton Road are now similarly cut off by troughs dug right up to their front gates", the Conservative councillor for Horfield added.
In a statement, Bristol City Council said contractors did block the front access to a number of homes last week.
"This should not have happened without notification and we apologise for this.
"Access has now been restored and we will ensure that better communications take place if any temporary access restrictions are required in the future.
"We anticipate that this part of the project will now be finished towards the end of February and we would like to thank residents for their patience."