North Somerset elephant habitat welcomes first guest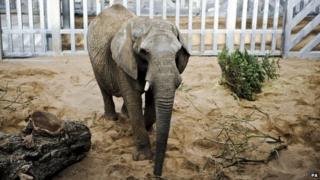 The first elephant has arrived at a new £2m enclosure at a zoo in North Somerset.
Female African elephant Buta has moved from Knowsley Safari Park in Merseyside to the new 20-acre Elephant Eden habitat at Noah's Ark Zoo Farm.
A second elephant, Nissim, also from Knowsley, will follow shortly. Up to 10 elephants may one day live at the zoo.
Noah's Ark Zoo Farm says the new feature at its Wraxall site is the largest elephant habitat in Europe.
But it has its critics, with some groups and individuals strongly against elephants being kept in captivity.
Zoology graduate and filmmaker Lydia Baines, from Bristol, has spent months living with wild elephants in Botswana and argues zoo life takes away all the components of an elephant's natural life.
"They aren't living at all as they would in the wild and this is causing huge psychological and physical problems for these elephants," she said.
Noah's Ark Zoo Farm says the habitat has been designed to offer enrichment and welfare advances for elephants already living in captivity.
Director Anthony Bush, said: "Elephant Eden is the result of five years planning, consulting, designing and finally building what we're confident will be one of the best facilities for elephants in Europe.
"We've spent considerable time speaking to experienced elephant keepers, zoo owners and experts to try to take the best bits and designs of other parks and put them together here at Noah's Ark.
"We are keen to push forward welfare improvements for all animals."
The habitat includes areas of woodland, grassland, mud wallows, and a bathing pool, sand yards and computer-automated winch feeders.
Both Buta and Nissim will remain in North Somerset for two years while Knowsley develops its own elephant house, due to open in 2016.