Public asked for views on Saltford railway station reopening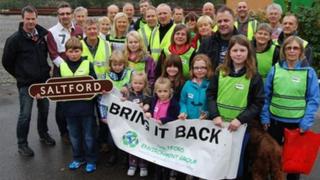 Villagers affected by proposals to reopen a railway station near Keynsham near Bristol are being invited to share their views.
Thousands of people have joined a campaign to rebuild Saltford Station which was shut in 1970 before its buildings and platforms demolished.
The potential impact has been been studied by the local authority which now wants to hear residents' views.
Councillor Francine Haeberling said it was "vital" residents had their say.
A public exhibition is being held at Saltford Hall from 16:00 to 20:00 GMT with Bath and North East Somerset Council transport officers on hand to answer questions.
The authority has identified some of the most complex issues including the costs of reopening the station and its impact on parking as well as traffic on the A4.
Mrs Haeberling, a Conservative councillor for Saltford, said: "Reopening a closed train station is a complex and lengthy process, so it's vital that residents have a say in the matter at the earliest possible stage."
She added: "It will also be an opportunity for the council to ascertain what the level of usage would be and take on board any local concerns."