Corner-cutting Portishead estate bus drivers investigated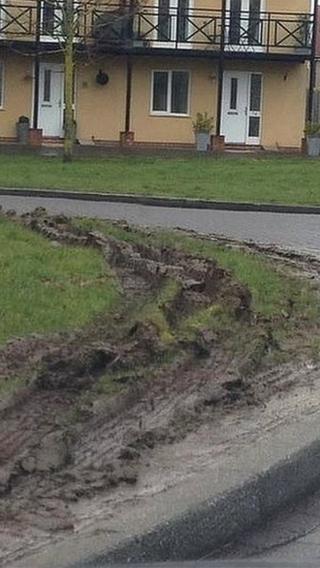 Claims that bus drivers are cutting corners and mounting kerbs on an estate near Bristol are to be investigated by First Bus.
Residents on the Pheonix Estate in Portishead have complained to the operator that their green spaces are being churned up.
Campbell Grant, a resident, said: "Bus drivers appear to be focusing on their schedule more than safety."
First Bus apologised to residents and said it had launched an investigation.
According to Mr Grant, "every corner" on the estate has been cut and "sliced up by First bus drivers".
"Everybody's upset. These houses, these are their front lawns - the parks and pedestrianised areas are their front lawns," he said.
"So the last thing you want to see is a giant bus cutting across your front lawn to avoid the traffic."
'Right on grass'
He said the grassed area opposite his house had become so muddy that on Friday a bus got stuck and had to be towed away.
"He was right up on the grass - there was only two wheels left on the road," he said.
In a statement, First Bus said they were "concerned to hear about this matter" and had begun an investigation into why buses were cutting corners on the estate.
"Clearly this should not be happening and we offer our apologies to those people living locally."