Bristol Port Company offers £10m for freehold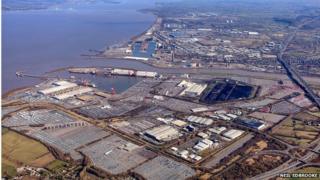 The Bristol Port Company has offered £10m to the council for the freehold to the docks at Avonmouth and Portbury.
The private company bought the port from the council in 1991 and agreed a 150-year lease on the understanding it could buy the freehold at a later date.
Bristol Port Company said the purchase would "secure the port's future" and "rumours" it was going to sell the land were "categorically not true".
Bristol City Council's cabinet will make a final decision on 1 April.
'Hard bargain'
Sue Turner, from the Bristol Port Company, said: "The council has driven a hard bargain and if they agree to sell us the freehold it will be a significant investment for us.
"Our advisers tell us that the market value for the freehold is £3-4 million so the £10 million we are offering is much more than we wanted to pay, particularly since we only pay a peppercorn per annum for the lease."
She said buying the freehold would "attract investors who would not put their business here based on leasehold land".
Ms Turner added this would in turn mean "more jobs" across the Portbury, Avonmouth and Severnside areas.
In response to rumours the port wanted to sell the land, she said: "We are a port, not a property developer and we need all the land for the business to succeed."
Ms Turner said the council would continue to receive its 12.5% annual profit share payment from the port, income of about £1m a year.
The privately-owned site has 2,600 acres of docks estate and currently employs more than 600 people.
Council leader, Mayor George Ferguson, said: "Most UK ports are not leased because investors can be put off by what they see as a lack of long term security of the business.
"By selling the freehold we would remove this barrier and open up opportunities for hundreds of millions of pounds of future investment in Bristol's port.
"This would be to the mutual benefit of the city and the company, helping boost trade and stimulate the economy."